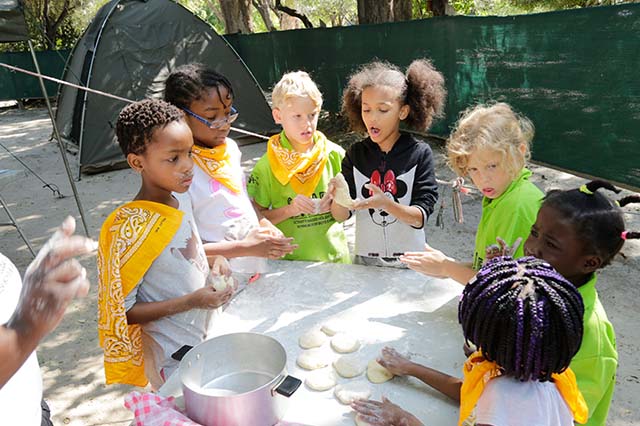 "Children learn as they play. Most importantly, in play, children learn how to learn." –O. Fred Donaldson
Parallel to the outdoor holiday camp, Camp Botswana also runs educational workshops for schools that learning through Physical activity. Our one day 'Amazing Race,' leadership workshop delivered on school premises is a series of carefully selected team building activities that incorporate creative problem solving solutions.
Our games develop risk analysis, test boundaries and develops experimentation strategies. We believe that the traditional way of assessing a child through multiple tests and exams does not always get the best out of them or is the best way to ignite passion and that's why we have re-invented the outdoor classroom for the modern child.
Besides the fact that we are the best in the country 😂, we are a purposefully low tech high adventure holiday camp offering a beautiful and simple location for the mind to escape the distractions of modern life.
Being low tech however, doesn't mean we do not offer any comfort as all our guest always have plenty of food and safe, relaxing accommodation with showers and running toilets (toilets in remote places are not to be taken for granted, after all this is Africa (insert laughing emoji and smiling emoji with hearts).
At Camp Botswana, children from all walks of life not only have a chance to explore their individuality, but they also have an opportunity to build friendships that can last a lifetime.
We are proud that our camps prepare our young people for the global stage through character building activities that develop resilience, creativity and confidence through a variety of fantastic games 😅.
Depending on the selected camping location, activities can include horse riding, giraffe tracking, paintball, archery, survival skills workshops, zip lining, swimming, outdoor cooking, traditional style of arts and crafts, agricultural projects as well an array of pioneering workshops such as coding for kids where campers get to program robots that they have built, or innovative recycling projects forcing them to think outside the box!
SPONSORSHIP OPPORTUNITIES
Interested in partnering or sponsoring any of our activities? Hit the button below